It's official y'all, for those of you that follow dancehall music you will know that Vybz Kartel has been bleaching his skin for quite some time. The Jamaican born dancehall artist is launching his own range of men's cosmetics this month, which includes a line of skin brightening items.
Awaiting trial for the Murder of Barrington 'Bossie' Burton, a 27-year-old promoter in Kingston. Vybz had original claimed to use cake soap but after the company refute his claims, He then said he made his own concoction.
Skin whitening is a very controversial subject as many are for it, and many are against it. It can cause great damage to the skin, many products released to the general public can sometimes burn and leave a huge amount of scarring. Jamaican health authorities
source
are dealing with increasing numbers of patients who have burnt their skin with black-market bleaching products. The craze is so serious that in 2007 the Jamaican government ran a campaign called 'Don't kill The Skin' to highlight the dangers of using products.
This is Vybz performing at an MTV event in Jamaica before he started bleaching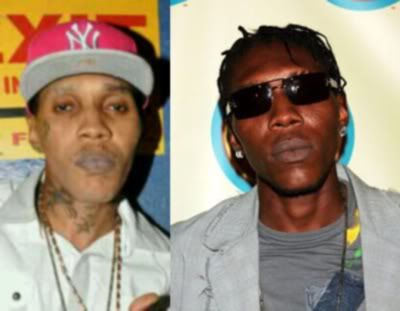 In a statement to Vibe.com, Vybz defending his use of cake soap, he said: 'When black women stop straightening their hair and wearing wigs and weaves, when white women stop getting lip and butt injections and implants...then I'll stop using the 'cake soap' and we'll all live naturally ever after.'
Keysha Davis, editor of Blackhair Magazine, thinks it is especially worrying that skin lightening products are being endorsed by influential celebrities.
'I think historically it has been black women who've had self-identity issues and so might use those products rather than black men.
'To hear that Vybz Kartel is putting out a skin lightening cream is quite disturbing, I feel, and quite sad.'
His products are launching in the Caribbean initially, but Vybz Kartel has high hopes for the moisturizers, fragrances and soaps. He told the Tribune: 'I wanna see them in Macy's and all other fine retailers worldwide.'
The musician's endorsements have not always gone to plan in the past, though. His brand of Daggering condoms had a reputation for splitting, and his Street Vybz Rum was deemed too expensive.
source
source
Do any of you use skin lighteners and what do you think about using them?
xoxo
Dejavunaturals