So it's spring and I am seeing some really amazing shoes this season. I am so excited to get right into some shopping for shoes. By far the best thing I love shopping for. Toronto Fashion just wrapped up last week, I did not attend but will have a full overview of the event for you guys on
http://www.freemaverick.blogspot.com/
there are some cute things am sure you will all love. Some designers had some of the greatest shoes but the front rows of any fashion show is where you can really spot some great moments in shoestory (New word).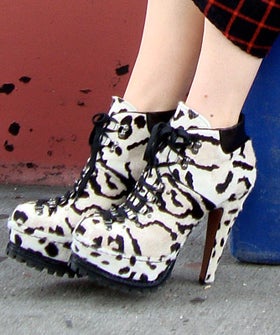 Photo by: Ashley Jahnicke
Poppy Delevigne Studded boots outside Jason Wu show. I love this toronto born deigners he is so amazing!!
Thakoon Booties
Oh I love these so spring
Photo by Sarah Cates
Proenza Schouler woven platforms, These are so unique am not sold on them, maybe they will grow on me!!
So let's do something a bit more me, and fun
This year you will definitely find alot of surgical straps in the stores for spring and summer, shoe sandal, platforms, leather saddle, patterened boots, lots of pastel pumps, lots of flats and finally clogs. They are everywhere this season, in every store. Here are a few options from Aldo....
If you want something a little more fun and funky...
Diego Dolcini
Diego Dolcini
Diego Dolcini
Emilio Pucci
Ernesto Esposito
Fendi

If your looking for the extreme unique find Alexander Mcqueen well lets just say you can never get enough of there over the top collection!
Empower, Embrace, Create and Unite
xoxo